SO YOU ARE INTERESTED IN A SAN DIEGO MINI SESSION, BUT YOU DON'T HAVE A CLUE WHAT IT ACTUALLY IS. AM I RIGHT?
Let's be honest…It's a quick and inexpensive way to get a few family photos without pulling your hair out chasing your kids (or spouse) around in circles with lollypop bribes. I know my two little boys would go insane (and they have) for a long photoshoot. And it frankly just isn't fun.
This is why I am offering a quick 20 minute mini session. Most of the time the most natural photos are caught in the beginning of a session, so 20 minutes is plenty of time. Easy, peasy and done.
Mini sessions are also a great way to test me out as your photographer in case you do ever want to (gulp) go longer than 20 minutes. Or if 20 minute sessions are your jam, then you can even fit in a few throughout the year without breaking the bank.
I have already picked out my favorite locations to make this an easy process for you. To book your session, just fill out the form to claim your spot and let me know which date and time are best for you.
Not sure what to wear? First of all… don't stress. I've already selected a few style ideas to help you out – view some ideas here. Always feel free to reach out to me for recommendations specific to your location and season too. I am happy to help point you in the right direction!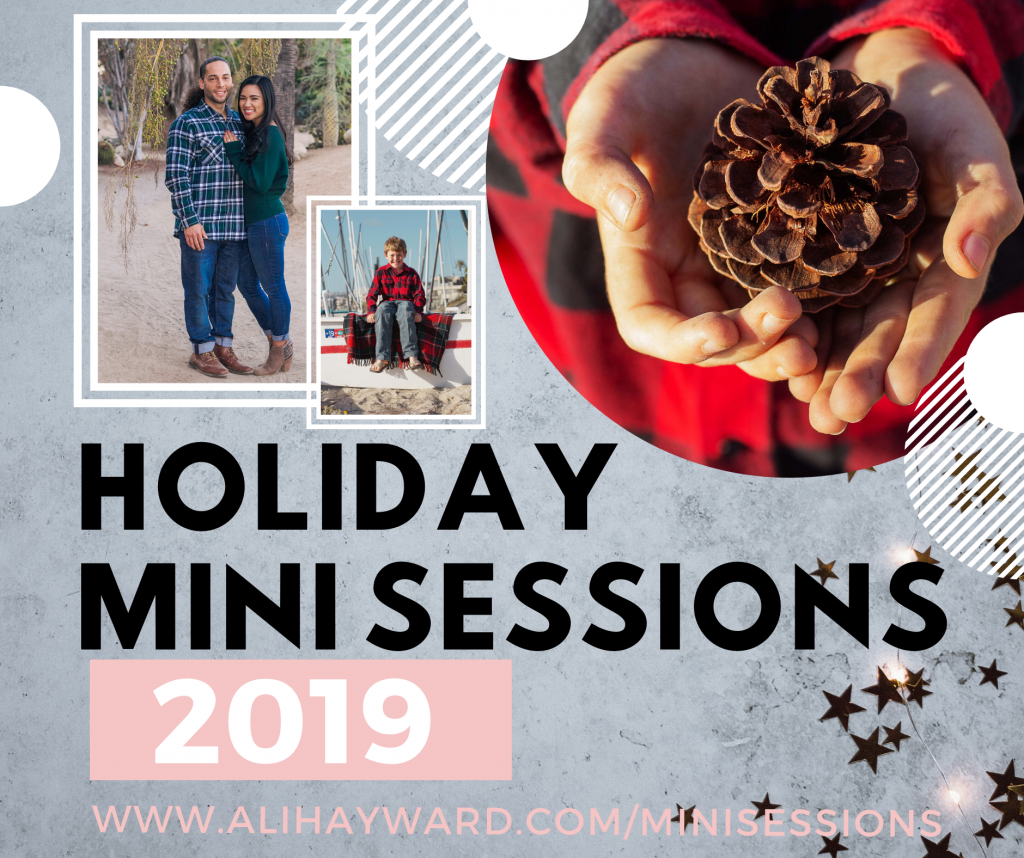 Each session is 20 minutes – if you need a longer session please sign up for two sessions.

You will receive 15 professionally edited digital photos with the option to purchase additional digitals. Print options also available for additional cost.

Photos will be provided through an online gallery – you can download any 15 images that you desire (you retain all photo printing rights).

When claiming your spot, please know this is first come first serve. If the time slot is no longer listed, this means it has already been purchased and you will need to select a different time slot.
DESERT GARDEN (BALBOA PARK)
Saturday, Nov 23
3:00 PM
3:30 PM SOLD
4:00 PM SOLD
BOAT DOCKS (SHELTER ISLAND)
Sunday, Nov 24
3:00 PM
3:30 PM
4:00 PM SOLD
4:30 PM SOLD
MISSION BEACH (NEAR BELMONT)
Saturday, Nov 30
3:00 PM SOLD
3:30 PM SOLD
4:00 PM SOLD
CACTUS GARDEN
(BALBOA PARK)
SESSION 1
Sunday, Dec 1
3:00 PM
3:30 PM
4:00 PM
Sunday, Dec 8
2:30 PM SOLD
3:00 PM
3:30 PM SOLD
4:00 PM
CAN'T MAKE THIS ONE? 
NO BIGGIE. SIGN UP FOR MY WAITLIST AND GET NOTIFIED WHEN NEW SPOTS OPEN UP!